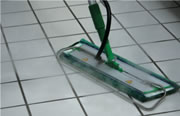 Steam Cleaning For Contract Cleaners
How steam cleaning can help contract cleaners
You will appreciate the time, effort and money savings from dry steam cleaning.
Just look at some of the many uses to which you could put your steam cleaner:
Dry steam cleaning reaches into the tiniest cracks and crevices and drives dirt and germs from areas other cleaning methods cannot reach
Removes baked on grease from stoves, ovens, range hoods and fryers
Kill and remove mould, mildew, fungus and bacteria and the odours that they cause
Restroom fixtures, counters and sinks have never been cleaner. Cleans and sanitises in one easy step for a healthier environment
Tiles and grouting, showers, bathtubss and floors are spotless. Removes soap scum, hard water scale and stains better than other methods in less time, with less effort and no noxious chemicals
Cleans blinds, curtains and draperies in place
Clean wax build-up from floors
Carpets are deep cleaned, sanitised and deodorised. Improves the look of carpets and rugs by raising the nap and removing stains
Remove dust, dirt and grease from walls and ceilings with ease
Floors of all types are cleaned as easily as using a vacuum cleaner, build-up is removed and looks restored
Polishes stainless steel surfaces of all kinds, chrome fixtures, cabinet hardware and handles while cleaning and sanitising
Refridgerators, coolers and freezers can be easily de-frosted, cleaned and sanitised. Even hard to clean gaskets and textured surfaces. Dirt and stains simply melt away.
Ovens, stove tops and fryers are left grease-free, sanitised and sparkling
Office furniture, filing cabinets, desk tops and more are quickly and easily dusted and cleaned in one easy step with no chemicals and much less effort on your part
Your customers will notice the visibly superior results of dry steam cleaning

Dry steam cleaning can gain you customers who want to avoid the use of chemicals whenever possible. You will quickly find more uses for steam cleaning... just use your imagination!