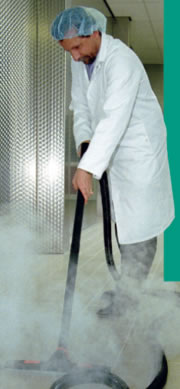 Hospitals & Nursing Homes
Why steam cleaning is needed in hospitals & nursing homes
Hospital and Nursing Home administrators love steam cleaning systems. Keeping patient and visitor areas clean, sanitary and odour free has never been easier. Steam effectively cleans areas that other methods cannot, and without the use of toxic, noxious or irritating chemicals.
Patient Rooms

Bed rails, service trays and tabletops are cleaner and more sanitary than ever
Clean and freshen upholstery
Spot clean and sanitise chairs, fabrics, rugs and carpets of all accidental stains and spillages
Clean drapes and curtains in-situ
Floors and carpets are deep cleaned and sanitised in one easy process
Makes easy work of valetting wheelchairs and other patient equipment
Kill dust mites in patient beddingwhile cleaning and deodorising
Trolleys, food trays and service areas are easily cleaned and sanitised without chemicals
Linoleum, vinyl and tile floors are all left spotlessly clean
Bathroom fixtures, tile and grout, sinks and porcelain are left sparkling clean, sanitary and free of odours.
Food Service & Preparation Areas

Polish, clean and sanitise all without the use of chemicals
Clean and polish stainless steel, refridgerators and freezers
Ovens - stop baking noxious chemicals into the food. Remove baked-on grease and food quickly and easily using only dry steam
Door gaskets are easily cleaned
Dirt and residues are forced out of even the deepest cracks and crevices
General Maintenance

Kill and remove moulds and mildews, and their odours
Clean air vents, walls and ceilings
Remove wax build-up from floors
Clean and deodorise carpets, waiting room furniture and reception areas.
Steam cleaning makes easy work of once difficult and time consuming tasks, saving time, money and effort.