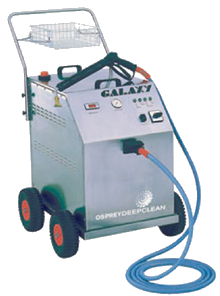 Galaxy X
With two boilers supplying over 28 kg of super-heated steam per hour at 10 Bar pressure this is the supreme industrial cleaner.

The Galaxy is particularly well suited to specific target deep cleaning applications that require the highest levels of hygiene.

A mobile cleaning and sanitizing solution capable of delivering wet or dry vapor steam on demand in both static and continuous applications.

The Galaxy X is the Allergen Terminator!
Specifications




Electrical Supply - 400 Volt 3-Phase
Current - 22 Amp Nominal
Wattage-18000 watt
Water Tank - 20 Litres
Stainless Steel Boilers - 2 x 7.2 litres
Steam Pressure in use - 10 Bar (145PSI)
Steam Temperature - 180 C
Heating up Time - approximately 9 minutes
Operating Time - Continuous

Assembled Size (L x W x H) - 106 x 74 x 116 cm
Weight approximately - 80 kg
Cable Length - 4 meters
Housing Cover - Stainless steel
Electro Valve - For constant pressure
Electric Cables - Silicon covered, flame proof
Tubing - Copper
Safety Thermostat - Temperature limit 195°C
Components - 2/3 nylon, 1/3 fiberglass tested to 260°C
Supplied with a comprehensive accessory kit, comprising:

2 inch Round Brush
Triangular Brush
3 x Detail Brush (Nylon)
2 x Detail Brush (Wire)
2 x Detail Brush (Brass)
Safety Goggles
Safety Gloves
Central Connector Hose & Gun