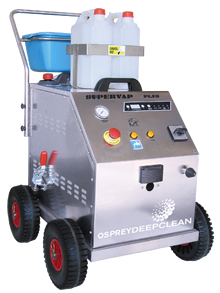 SuperVap 9KV
The SuperVap 9KV is a heavy industrial 3-phase machine with one 7.2 litre boiler generating sufficient vapor steam at 230V for most industrial cleaning and sanitizing applications.

Steam super-heated to 180°C and delivered at 8 Bar will make light work of even the most stubborn grease, dirt, biofilm and soil, yet it is completely environmentally friendly!

Litres per hour versus litres per minute compared to alternative technologies.

Vacuum facility included for quick clean-up of slip and fall surfaces, walls, glass, and most flat surfaces.

Save on water, chemical and most importantly costly waste!


Specifications




Electrical Supply - 230V 3-Phase
Current - 9000 watts 20 Amps 4 Pin
Water Tank - 10 litres
Stainless Steel Boilers - 7.5 litres
Steam Pressure in use - 8 Bar
Steam Temperature - 180°C
Heating up Time - approximately 5-8 minutes
Operating Time - Continuous
Assembled Size (L x W x H)
- 98 x 46 x 102 cm

Weight - approximate 50 kg.
Cable Length - 3.6 metres
Housing Cover - Stainless steel
Electro Valve - For constant pressure
Electric Cables - Silicon covered, flame proof
Tubing - Copper
Safety Thermostat - Temperature limit 195°C
Components - 2/3 nylon, 1/3 fibreglass tested to 260°C
Electrical Switches - Water spray proofed
SuperVap 9KV comes complete with two accessory packages;

Steam only tool kit complete
Steam and vacuum tool kit complete

Typical Successful Applications include:

Bakery
Candy & Confectionary
Dairy
Meat Processing
Poultry Processing
Allergen Removal
Chemical Processing
Pharmaceuticals
Plastic Injection Mould
Paper Converting
Pulp and Paper
Waste Water Treatment