Fury Steam Cleaning Machine
A tough and robust machine designed to enable cleaning of the highest quality to be undertaken whatever and wherever the job. The steam super-heated to 180°C nominal and delivered at 8 bar pressure allows the detailed cleaning of a huge variety of surfaces – from the sanitising of kitchen, baking and food manufacturing equipment to road film, graffiti and gum removal.
The chemical injection facility allows the use of a suitable mild cleaning agent. The industrial strength vacuum enables the simultaneous removal of moisture and the residue of grease.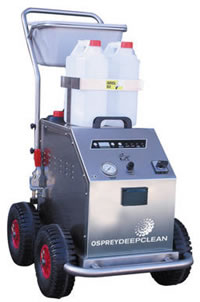 Technical Specifications:
Electrical supply: 230V, 50/60Hz
Power: max 3600 watts
Water tank: 5 litres
Chemical tank: 2 x 5 litres
Boiler: 3 litres stainless steel
Boilers steam pressure: 8 bar
Temperature: 180°C nominal
Heating up time: approx 9 minutes
Wet and dry vacuum: 1200 watts
Vac tank capacity: 20 litres
Supplied with a full set of steam only and steam & vac accessories