VegaPlus Steam Cleaning Machine
The Vega Plus Steamer is compact, manoeuvrable, and very powerful, the Vega Plus has become the best seller of our range. The powerful vacuum cleaner and steam super-heated to 180c and delivered at 8 bar pressure make this the ultimate super cleaner. The Vega Plus enables either simultaneouse or independent use of the industrial strenght vacuum or the super-heated steam facility.
A feature allowing the addition of mild detergents to the dry steam as it is released from the cleaning head is also available with the Vega Plus. This is a tough machine for the toughest cleaning jobs.Ideal for gum removal on hard surfaces and carpets.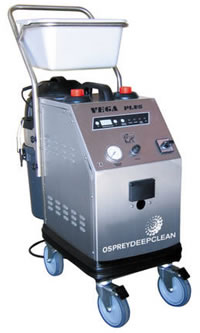 Technical Specifications:
Electrical supply: 230V, 50/60Hz
Power: max 3600 watts
Water tank: 5 litres
Chemical tank: 5 litres
Boiler: 3 litres stainless steel
Boilers steam pressure: 8 bar
Temperature: 180°C nominal
Steam volume: 150 litres/minute
Heating up time: approx 9 minutes
Wet and dry vacuum: 1200 watts
Vac tank: 20 litres
Supplied with a full set of steam only and steam & vac accessories