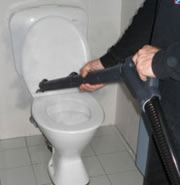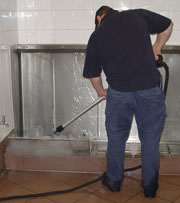 Schools & Daycares
Why steam cleaning is needed in schools
Steam cleaning will help you maintain a clean and sanitary environment that helps stop the spread of contagious diseases so common in school and day care settings. Everyday tasks are easier and faster with dry steam cleaning.
Restrooms:
Clean and sanitize fixtures, porcelain, sinks, counters and floors in one easy step.
Tile and grout lines are easily cleaned and odours removed.
Kills bacteria, mildew and viruses on contact.
Reduce the use of chemicals with an environmentally friendly cleaning solution. 
Sports Equipment and Exercise Areas:
Clean and sanitize equipment quickly and easily.
Reaches cracks and crevices in exercise equipment other methods cannot reach.
Remove bacteria and odours.
Clean tile, grout and wood in pool and spa areas.
Child Care:
Clean and sanitize toys, table tops, chairs and desks.
Easily remove glues, food and drink spills and stains.
Clean, sanitize and deodorize carpets, mats, rugs and changing stations.
Removes common dust and dirt, fingerprints and stains from walls, woodwork, cabinets and floors without using potentially dangerous chemicals.
General Maintenance
Clean and freshen upholstery, blinds and curtains.
Easily cleans and sanitizes food service and preparation areas.
Provides a healthier indoor environment by removing bacteria, moulds and mildew and chemical contaminants. Leaves areas sparkling clean and fresh smelling.
Glass, mirrors and windows are left spotlessly clean with no streaks, smears or chemical residue to attract dust and dirt.
Save time, money and effort